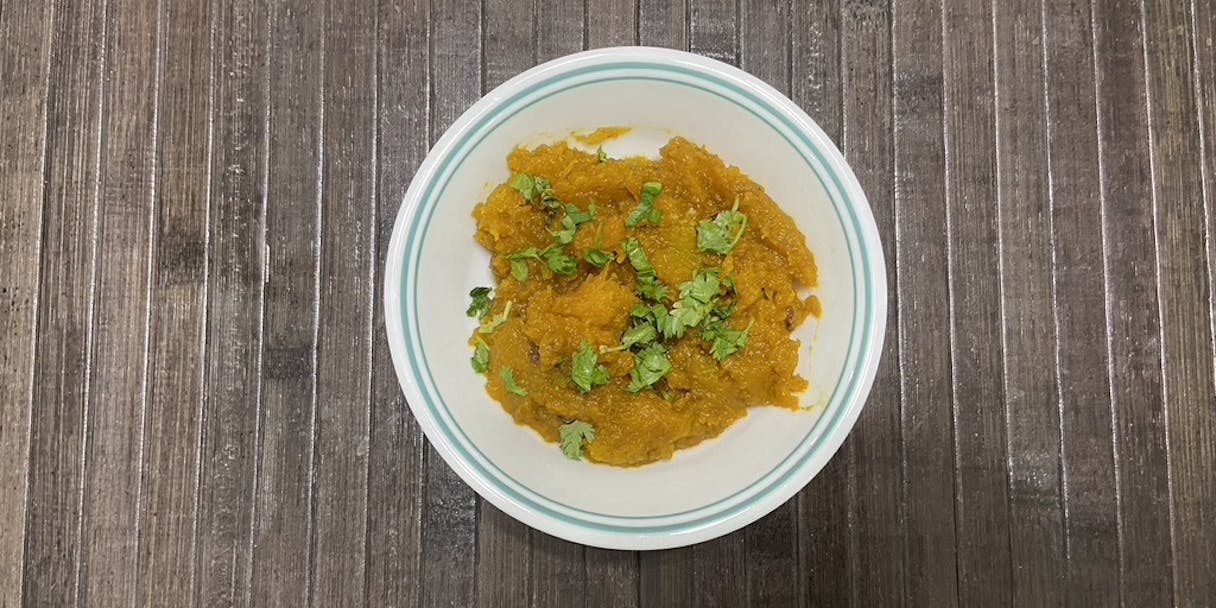 Kaddoo Bhaaji (Spiced Pumpkin)
A must-try for pumpkin lovers
Ingredients
1, small Kaddoo (Pumpkin)
2 tablespoon Ghee or Oil
1 pinch Heeng (Asafetida)
1/2 teaspoon Methi Dana (Fenugreek Seeds)
1/2 teaspoon Haldi Powder (Turmeric)
1 teaspoon Dhaniya Powder (Coriander)
1/2 teaspoon Amchoor (dry mango powder)
1/2 teaspoon Salt
1/4 teaspoon Pink salt
1/4 teaspoon Red Chili Powder
2 teaspoons Sugar or Jaggery Powder
1 cup Water
1 bunch Cilantro or mint leaves
Steps
1
Wash and cut the kaddoo into a few smaller pieces to make them easier to handle.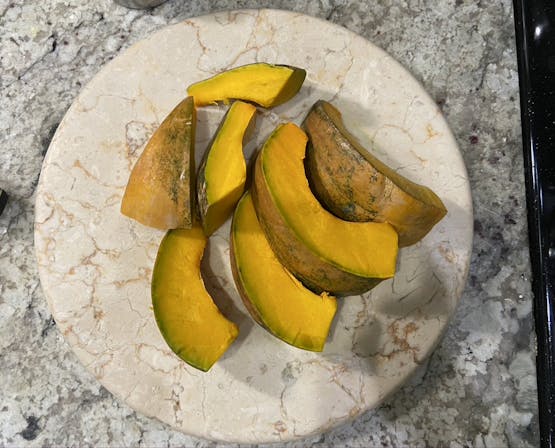 2
Carefully remove the skin and cut the kaddoo into small cubes.
Optionally, you can keep the skin for a slightly less sweet flavor. I suggest trying both options at least once.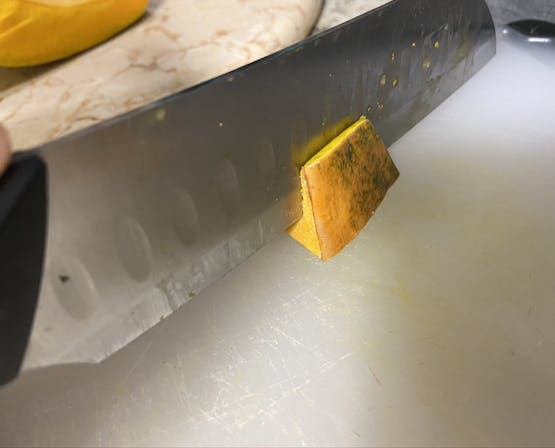 3
The pieces should be about 1-inch cubes.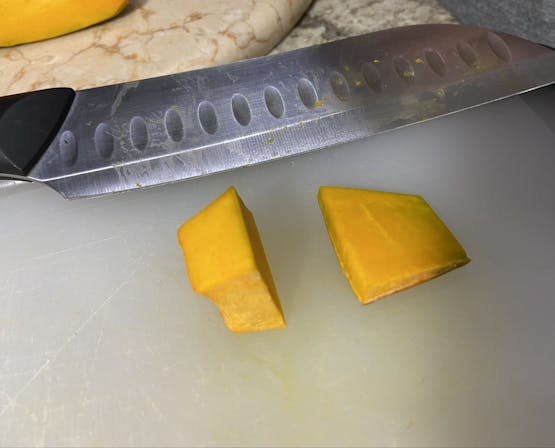 4
Heat a pan on medium heat and add ghee. Once the ghee is hot, add heeng.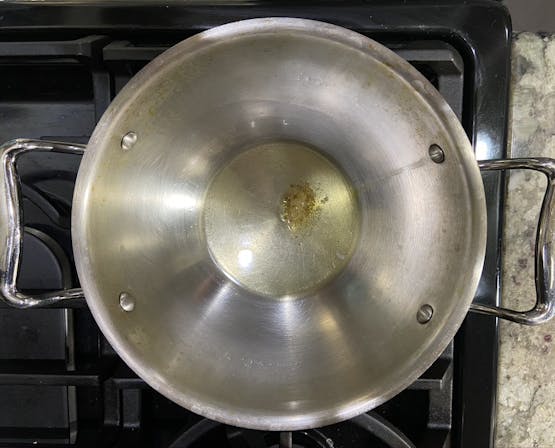 5
Add methi dana and roast until it is golden brown.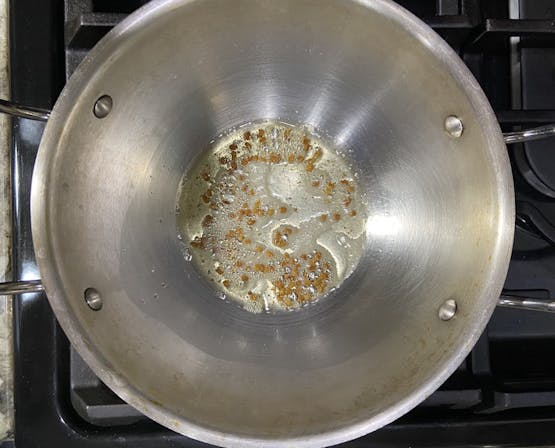 6
Add haldi, dhaniya powder, chili powder and roast the mixture for 10 seconds.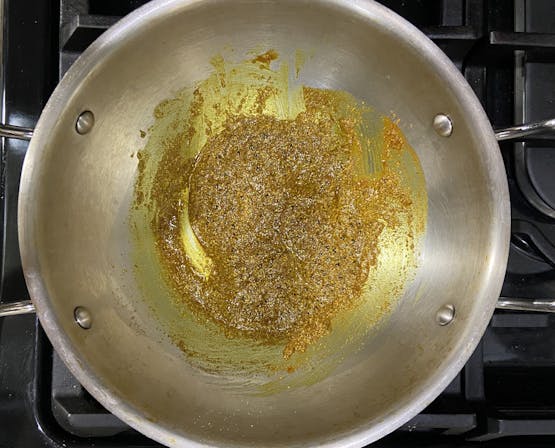 7
Add 1/4 cup water and roast the spices for 30 seconds.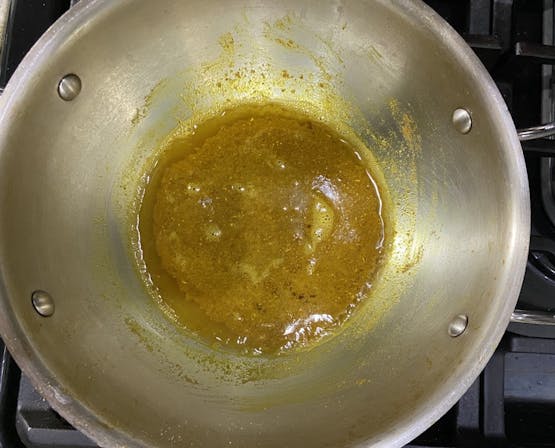 8
Add the cut kaddoo pieces, salt, and the remaining water, and mix well.
Let it cook for 10 minutes, stirring occasionally.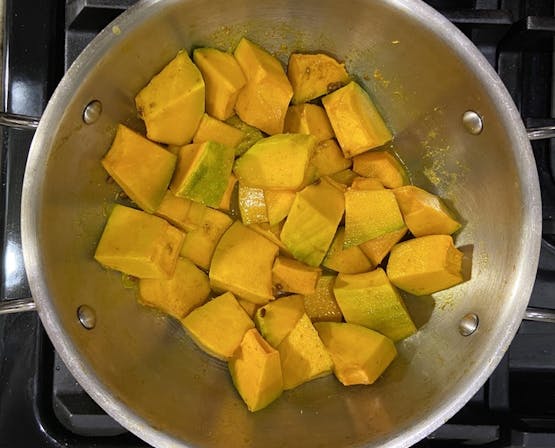 9
Generally pumpkin cooks well in 8-10 minutes. It should be soft.
Now add amchoor powder and sugar (or jaggery powder) and mix well. If the bhaji is too dry, add 2-3 tablespoons of water. Let it simmer for 2-3 more minutes.
10
Garnish with chopped cilanto or mint leaves.
Serve hot with puri or parantha, and optionally complement with a second bhaji like bhindi or yogurt potato bhaji.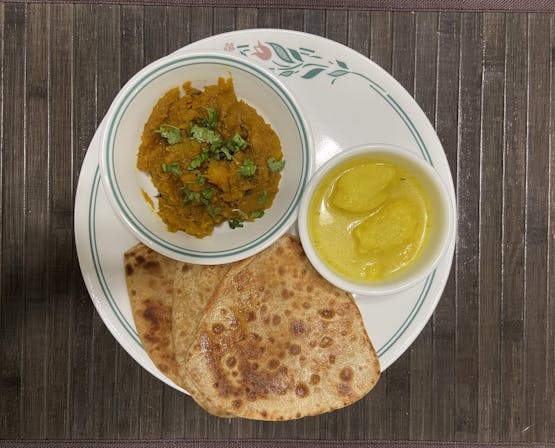 The Vedified Newsletter
Subscribe to get new articles, recipes, and the latest updates right in your inbox
Your email address will never be sold or shared